Since she made her debut on Wheel of Fortune in 1982, Vanna White has built a phenomenal following worldwide. As she begins the 2008-2009 season as co-host, her loyal fan base, or "Vannafans," continues to soar, while her weekly fan mail keeps pouring in by the thousands.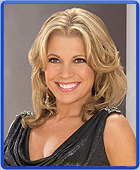 Becoming ahousehold name globally was not something White expected while growing up in the small resort town of North Myrtle Beach, S.C. After attending the Atlanta School of Fashion Design and becoming one of the area's top models, she moved to Los Angeles with the goal of an acting career. Just two years later, while competing against more than200 other hopefuls, her intelligence, All-American beauty, grace and exuberant personality won her the coveted spot as co-host of America's favorite game show.
But no one, especially White herself, anticipated the kind of audience response she has received from her first appearance. Surveys have shown that her presence contributes greatly to Wheel of Fortune's phenomenal ratings. In 1992, White was recognized in "The Guinness Book of World Records" as "Television's Most Frequent Clapper." Averaging 720 claps per episode, she puts her hands together more than 28,000 times per season! And, although she has been called the series' silent star, White does indeed talk – and quite well. White's autobiography, "Vanna Speaks," was a nationwide bestseller when published in 1987. She has also been featured on numerous magazine covers.
In April 2006, White received the 2,309th Star on the Hollywood Walk of Fame. White's family and friends, including Pat Sajak, Alex Trebek and Merv Griffin, gathered to celebrate this milestone in her life.
White is one of the most sought-after celebrities to showcase top designer fashions. As Wheel of Fortune enters its 26th season in syndication, she will have worn over 5,100 different designer outfits at the puzzleboard. As a result of fan interest in her fashions, White launched her official "Vanna Style" web page, which can be accessed via wheeloffortune.com. "Vanna Style" features clothing that White wears on the show from some of the world's most exclusive designers, including Halston, Luca Luca, Versace, Christian LaCroix, Georgio Armani and Escada.
An avid crocheter, White launched her own line of yarn this fall called "Vanna's Choice." White's passion for helping children with cancer led her to develop the line and donate partial proceeds of its sales to St. Jude Children's Research Hospital.
Beyond her work on TV and philanthropic efforts, White spends her time on her favorite job—being a mom to her two children, Nicholas and Giovanna. She is a strong believer in fitness and leads a healthy lifestyle, which includes spinning and yoga.
Through it all, one aspect of White's life remains unchanged: her down-to-earth appreciation of the work done by her off-camera colleagues who keep the series consistently on top of the ratings charts. "All you see on the television screen are our contestants, Pat and me," she says. "But, it's the scores of other people who really make Wheel of Fortune spin like it does. Then, there's the game. We just have a winning combination."
White resides in Southern California with her two children.
.